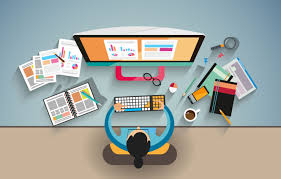 Web Design Trends for 2018
Sophia Walker
2018 is here and with it comes a new wave of web design trends to take notice of. We're now in the middle of February, which means we are aware of exactly what's causing a storm in 2018. Let's take a look at some of these web design trends, and think about some of the ways that they can be used for enhancing your own business' website.
Bolder, Brighter Colours
Gone are the more monotone colours that were popular in previous years. This year, we're seeing an increase in the use of more adventurous colour schemes. Bold and exciting colour schemes are an ideal way to draw in audience attention and ensure that they don't forget your site in a hurry.
Find out more about web design! 
Stylised Typography
In addition to bolder colour schemes, we're also seeing increases in inventive typography. While the standard typefaces are still popular, designers are increasingly turning to serif fonts and other typefaces to create a unique web design experience.
This is due to the fact that the resolutions on mobile devices are becoming increasingly sharp. This means that fonts are more and more legible. This means that you can use more unconventional or custom fonts without worrying about your customers being unable to read what you've written.
Another popular typographical trend that we're noticing is the use of cut outs in web design. This is a block of colour with clear lettering with an image underneath.
Changes to Flat Design
"Flat Design" refers to the simplified look of modern, minimalist web design. Take, for example, the Windows 10 start menu: this is quintessential Flat Design. In 2018, we're going to see changes to Flat Design to ensure that it keeps with other emerging trends. Flat Design will have more nuance and depth than it did previously. We're likely to see tasteful uses of gradients and shadows to create this depth. Flat Design will give way to a kind of Semi-Flat Design.
If you would like to find out more about web design trends for 2018, or think that your website could do with an update to reflect the current trends, get in touch today! We offer a free 90 minute consultation and will have your website reflecting the present times.
[mailerlite_form form_id=4]