How Southampton Web Designers Can Help The Community
Lewis MacLean
Here at Sites For Business, there is only one thing we take more seriously than Southampton web design. That is charity. Southampton business is at the heart of everything we do and we often find worthwhile partners in our ventures but Jamie's Computers is one of the finest we've encountered so far. 
Jamie's computers are a not for profit, award winning organisation. They are also a  practical way to repair damaged or simply unwanted computers. These days computers get outdated so quickly and they are expensive to replace. More often than not the most unfortunate in society cannot afford such luxuries, so we like to help out where we can and now you can too.
By donating your old computers parts to Jamie's, they can repair and provide worthwhile technology to those who need it the most. We even got a lovely little certificate for our efforts.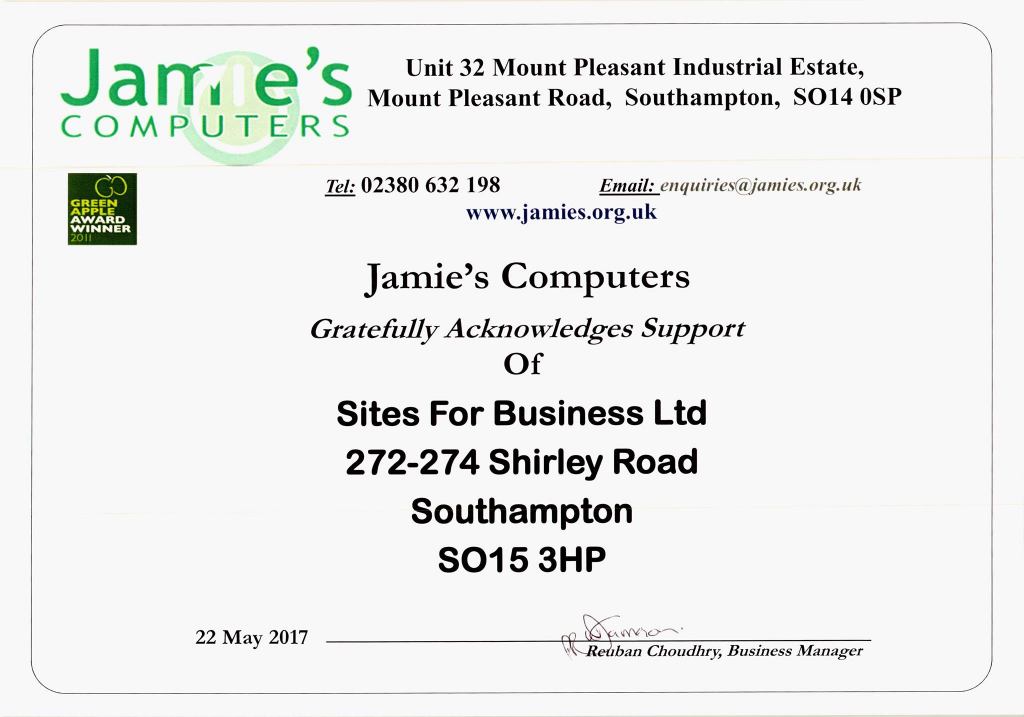 4 Ways Your Business Can Help The Community
1) Donate old  or unwanted computer parts
This will save you any cost for disposing of said parts and you will help someone else out. Everyone wins and you will get a warm feeling in your heart. Jamie's are closely associated with homeless charity; the Society of St James so all profits will inevitably benefit the forgotten parts of the Southampton community who need it most.
2) Buy second-hand online
Jamie's is a not for profit organisation but still runs likes a business. They sell fixed/repaired items for cheap, so if you need a very basic computer for minimal use or perhaps for someone as a present. Some of the repair work done at Jamie's is so good that computers can look and function like new. Jamie's is a perfect place to shop. Any proceeds are invested directly back into the community.
3) Reduce waste
As we have done, it's easy and thinks of all the companies you know who have outdated or faulty computers that will probably just throw so many away when they upgrade. Think of all the polluted landfills with non-biodegradable plastic floating around in rubbish dump. Why not salvage the lot by donating it to Jamie's. Another great way to give back to the community.
4) People Power
Another great reason to help Jamie out is they invest in 'hard to reach' people. They provide invaluable work experience for unemployed staff, giving them experience and confidence to get out there for themselves. Working at Jamie's really does improve the quality of life for employees, in more ways than you think.
[mailerlite_form form_id=4]