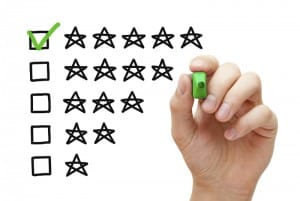 Gain control of your customers feedback
Edward Zarkovas
For every business, it is very important to get feedback from their clients, but sometimes it is harder than it can look.
According to an independent survey of 12,000 travellers, conducted by PhoCusWright:
53% said that they would not book a hotel that had no reviews

31% said they would avoid eating at a restaurant that had no reviews

76% said that they would not go to a restaurant that had several bad reviews
Online reviews are a powerful marketing tool but they can be used and abused by customers.  Most online review sites have now put in place measures to combat this but it remains a very real issue for a variety of businesses and that's where our systems become necessary.
Our newly designed review collection system helps us automate the customer feedback process to capture and filter our online reviews.  This allows us to post positive reviews on social networks and deal with negative reviews directly before they appear publicly.
How does it work?
We create a custom designed review collection page for your business and provide you with a link and QR code to it.

You send this link or share a QR code to your clients every time they purchase something of you.

By following the link or QR code your customers will see a customised review page where they can select a star rating of how well you've performed. Customers giving a positive rating will be redirected to the selected social media review page, such as Facebook, Tripadvisor, etc… where they can post the review. If the feedback is negative, you will have an option to deal with it and it won't go public.
Tips:
You can print the QR code on your business card, leaflets or receipts to maximise the number of reviews you get

You can use different social media options to make sure that your visitors can select the one they prefer to use

Push Google + reviews in order to improve your search engine position

Negative reviews can be dealt with immediately in order to improve your business reputation
Benefits:
Collect and filter positive and negative feedback

Boost your rating on social media and start getting more enquiries from social media

Be in control of your reviews, build up your reputation online

Don't allow negative reviews to control your business

Improve your website SEO by receiving positive reviews on Google Local Listings (Map)

Encourage customers to leave reviews so you can work with your feedback.
Features:
Create your personalised review collection page with your content and logos

Select which social media platforms you want to collect reviews on….we have integrated Facebook, Google +, Trip Advisor and others…

Send your unique link to your clients and don't be afraid to receive negative reviews

Be able to respond and react to negative reviews in order to improve your business
To celebrate the launch of this exciting new service we are offering a reduced rate to the first 100 businesses that sign up – only £19.95* per month with no setup fee!
* – plus VAT
[mailerlite_form form_id=4]